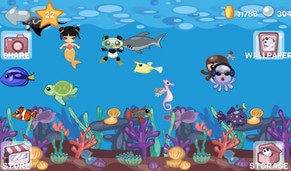 Bionic Panda Games a social gaming company based in San Francisco, were established in March of 2010 and they released their first creation, Aqua Pets almost a year later in February 2011.
Aqua Pets claimed to be the best social game and offers free fishing, fish tank, aquarium gaming for android phones, with the opportunity for players to catch cool looking fish and build a beautiful aquarium filled with turtles, beautiful fish, cute seals, and other exotic sea creatures.
As well as that fans could build an amazing aquarium or fish tank and then turn it into beautiful free moving wallpaper, that they could use on their Android phone or tablet.
The company promoted or should we say 'floated' the idea of spreading the word and involving friends by reaching out to their email contact list and friends and acquaintances on Facebook. With this thought in mind players could then have the opportunity to to visit each other's tanks, and receive interesting and exciting free gifts.
Players had the ability to decorate their fish tank or aquarium with the coolest fish that they could catch. They could customize their fish tank with legendary, common and rare fish and turn their mobile phone into a gigantic aquarium with their free live wallpaper feature.
With the chance to discover hidden secrets by fishing with different combinations of bait and rods, it would seem lots of elements for success were in place, for the game to take off like wildfire.
Although a lot of creative ideas looked set to propel their efforts into the mainstream, there were some underlying problems and in this day and age of computer problems, people very quickly lose interest in things that are fraught with such anomalies.
Sometimes the Aqua Pets app would fail to install properly and they were unsure as to why they had no control over the installation process. This resulted in the app not opening and Bionic Panda Games becoming just another failed startup company. They also had to deal with a "force-close" issue, seriously, who can deal with something like that? We guess some things are just not meant to be.