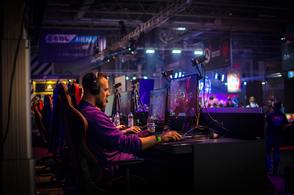 eSports betting is becoming more and more popular, making its name more renowned than ever and in our generation, there's even a website established to cater to customers who would love to have a piece of the action and what I'm talking about is Unikrn. The site is definitely pronounced as Unicorn and with such a magical name, Bionic Panda Games can only expect that customers will be served with an exciting and lucrative experience there.
The Unikrn has just made its way to the public and opened its door online on April 29, 2015. Unfortunately, it wouldn't be able to render service to players who will come from the US Market, including even where it stands - on Seattle. Its focus will remain mainly on those within its jurisdictions or area that fully supports gambling and view it as legal on their place. This includes continents such as Australia, Asia and even Europe. Though US it's unfortunate that US will not be part of their customer base, the number of their target is still very phenomenal.
Though American players are restricted from wagering or betting on the site, they still are capable of entering it, joining through registration and even getting to see the flow of odds throughout the website's career. The Unikrn has joined hand-in-hand with the famous company, Tabcorp, which is an Australian-based waging company, in order to keep an exceptional grasp and control over the target areas of the company along with data and identification processes involved.
The company also has a great management thanks to its Co-founder and CEO named Rahul Sood which is undoubtedly familiar with how big tech companies work as he had a background of being the GM of the revered Microsoft Ventures and the founder of the reputable VoodooPC. With this solid and reputable CEO, many expect a bright future ahead of the eSports website.
When the site announced its launch, Sahood even added that their partnership with the Tabcorp was undoubtedly the best possible outcome they could have wished for to get their hands on the drive and innovation that will allow them to offer online bets on eSports games and competitions. Unikrn has also shared statistics, showing how big eSports teams have become and how they predict that it will grow even more in the future.