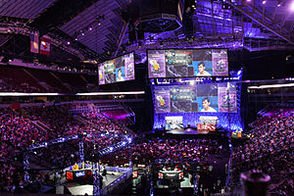 As online games became more renowned than ever to the point where it has been considered a worldwide, phenomenal sports called E-Sports, various teams have also made their name through their different eports teams, which is definitely a sight to see especially if you're a fan of this breathtaking activity. Since the launch of bionicpandagames.com, eSports have progressed extremely fast during the recent years and not only is it a source of fun and glorious popularity, it also renders vast amount of opportunities to win big money for those hardcore gamers that would like to bet on eSports teams and competitions. There's definitely a lot of things to learn from them and knowing them is the first step in order to have a better idea of how they have managed to step on the position they're in today.
One of the most resounding name of esports teams today is called Cloud9. Though it is called that way now, the team had a rather deep history which cultivated them intricately. They were originally known as the LOL team of Quantic Gaming, however, when the ill-fated day came where they had troubles financially, they competed on e-sports under the team-name NomNom which eventually became Cloud9 later on. Though relatively, the team is young compared to other existing teams, no one can deny the fact that they have managed to stand at the top of various events and tournaments with their total prize accumulated, ticking at a stunning $2.5 Million. They compete in games like CSGO, Fighting games, Heroes of Storm, Dota 2, League of Legends, and Hearthstone. These matches can be watched by visiting live streaming such such Unikrn.
No one in the industry wouldn't also know the name of the esports teams, 'Evil Geniuses' that's definitely one of the top rankers and highest-earning team today with a total of $11 Million fortune. The team had various sub-teams for different games and from having teams for games like Counter-strike and Quake, they now have teams that rocked the gaming industry on Dota, Halo, Dota 2 and many more games that are included on E Sports.
Finally, there's also the SK Telecom T1 and though they may not be able to compete with the other two in terms of total prize accumulated, countless enthusiasts still believe that their LOL team are without a doubt, the best on the game. With these fantastic teams as the game-leaders, it is evident to see how E sports have become the new sports of today.